So, it's no shocker that I like clothing. I want to go into fashion design.
I. Love. Cloths.
Problem? I'm poor. I'm a really poor college student who shops at the local Goodwill/Missions. Nothing against that. I have pretty cool stuff.
But, that being said, there are moments where I see items that I really love, and thrift stores just don't have those items most of the time. Sometimes. Just not often.
So, here is a little compilation of things that I would very much like to have. Perhaps I'll use said compilation to gain inspiration for projects I would like to complete myself.

Only Shallow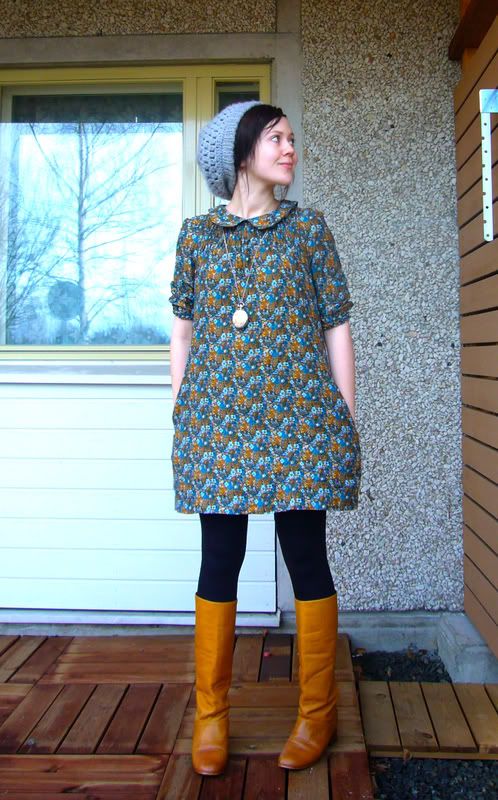 Oh, to live in this wonderful land of orange boots and tent dresses and hats. Go to her blog. 99% of it is beautiful and lovely and wonderful. If only my legs were thin enough to fit into boots like that! (Do you have any idea how hard it is to find boots when you have small feet and large calves? Nearly impossible, unless you're willing to settle for ugly ones that cost nearly double what similar boots in normal sizes cost. Ugh.)
I digress. Her blog is lovely.
These Coats from Forever 21

Forever 21 has a lot of cute coats right now. I don't care for 99% of what they normally carry. But these two coats in particular are lovely. Unfortunately, they don't carry my size (I'm sorry I have a large chest, Forever 21. Why do you have to hate on the well endowed girl?)
Basically everything from Anthropologie.

Holy. Crap. Anthro. Where do you start? I love them so much! I tend to prefer their fall stuff best, but their spring/summer dresses are SO precious. I would KILL to work for them. Ok. Maybe not kill. Just work really hard. But yes. I love them, and I can't even afford to buy a scarf there. (My boyfriend actually looked at a scarf there and considered it for me as a Christmas gift, until he saw the $60 price tag and said "She could make this".)
So, thus will conclude this edition of clothing envy. Hopefully I will find a way to satisfy my clothing cravings in the upcoming spring months, as I find that most of my old cloths no longer fit me properly. I do not want to spend another spring in hoodies. Ugh.
Love,
Shila